Auto Body Paint Repair in DFW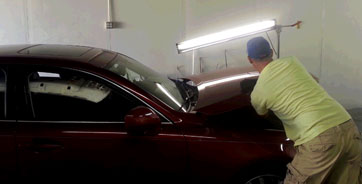 If your car is in need of paint repair, you might be thinking about putting it off as long as possible. However, the temperatures will probably be dropping drastically soon, and it's generally a better idea to have your car paint repair done before it gets too cold. These are a few reasons why.
Prevent Rust and Other Damage from the Elements
First of all, you should think about the potential effects of the elements on your damaged paint job. During the winter, you have to worry about ice, snow and the deicing solutions that are used on the roads during the wintertime. All of these things can cause rust on any vehicle, but this can be even more likely if your paint is damaged. This is because your paint serves as a type of protective coating against the elements, and if it's damaged, it's not going to do the job as it is supposed to. This can lead to serious rust and other damage.
Ensure Your Paint Sets Properly
The freezing temperatures can have an effect when your car is being painted. Although this might not be a problem for smaller jobs, it can be an issue if a larger part of your car needs to be painted.
If you're interested in scheduling an appointment to have your car repaired, contact us today.