What to Know About Professional Dent Repair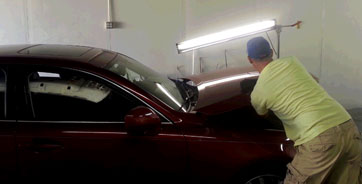 Nothing ruins the appeal of your new ride more than a dent on the exterior. Although some dents can be fixed at home, it is always recommended to visit a professional shop in order to restore the like new luxurious appearance of the exterior to its prior condition. By learning more about dent repair, finding the right shop and procedure to eliminate your aggravation should be straightforward.
Can I Get A Warranty?
Warranties illustrate the devotion that a repair shop has when it comes to ensuring the pristine image of your transportation. According to Edmunds, "When choosing a body shop, "you don't go in with your pocketbook open," Mallette explains. "You go in smart," and ask some key questions. Does the shop provide a written warranty? And if so, for how long? What does the warranty cover? A one-year warranty is a minimum, Mallette says. His shop offers a two-year warranty for body work and a three-year warranty for complete paint jobs."
PDR on Specialty Cars
For a specialty car, it is important to select a shop that specializes in working with that specific brand of vehicles. Antique vehicles or expensive luxury requires a very intensive devotion to detail. The reasoning behind this is the fact that their design is likely not standard when compared to most modern vehicles.
PDR Repair Estimate
Repairs may take as long as a few months depending on a wide variety of variables. The time it takes for specific parts or paints to arrive as well as unexpected procedures such as having to get the electronics system reset by the manufacturer can all change the repair time. Plan ahead accordingly.
Take the time to contact us at Dallas Auto Hail Repair in you have any questions about professional dent repair.