Dent Repair: Best Done By Professionals
April 21, 2016

Posted by

Hail Repair
Comments Off

on Dent Repair: Best Done By Professionals
When your vehicle gets dented, it's always a stressful situation. Especially when it gets dented because of hail, you may be frustrated because there is nothing you could have done about it. But when you have professionals help with your dent repair, life will be much easier.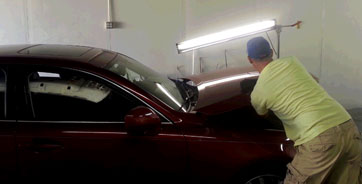 Don't DIY
We've all seen those infomercials with clever gadgets that claim they can easily pop out your dent. However, those tools often don't do the job. And if they don't, you are left spending money on a useless gadget that did not prevent your from seeing the professionals about your problem.
Not All Repair Shops Are The Same
You should always find a business that can give you great service, which you can determine by looking at its customer reviews. Popping out dents, and especially doing so while not requiring new paint, is a tricky job. If you find a business with great customer reviews, you can more easily determine whether the repair shop is up for the trask.
Reading about the positive experiences of others gives you insight into how a business will treat you and your vehicle. Additionally, it also allows you to pick a smaller business, which means that you can be sure that you'll get the best treatment and service possible. By doing your research, you'll be sure to find the best place to treat your damaged vehicle.
You can't control the weather and when your car gets hail damage, you need to get it fixed. When you find a reliable service that excels at fixing vehicles with hail damage, you can rest assured that your vehicle will look as good as new. To learn more about our services and what all we can do for you, please contact us.